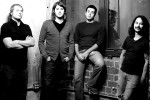 DAN HUBBARD AND THE HUMADORS
Illinois-based singer-songwriter Dan Hubbard has released six albums and toured extensively through the Midwest and both coasts. In the process, he's built a strong fan base, become a refined songwriter and earned critical acclaim for his efforts.  With its foundation in the classic sounds of Tom Petty, Van Morrison, Neil Young and Jackson Browne, Hubbard's music incorporates folk, country, blues and even a little funk. With a dynamic and powerful voice, Hubbard carries songs of love, loss and soul searching (and occasionally getting drunk enough to forget it all). Like the influential front-men before him, Hubbard delivers a message that people can relate to in good times and bad.
In 2008, the Humadors joined Hubbard on the road. That fall, they released their self-titled debut- a collection of songs showcasing graceful lyrics, vibrant melodies and innovative sound.  The band got its first taste of success when the release of their 2010 album See You Again received national airplay on over 120 radio stations, and climbed to #190 on the AMA charts.   Their popularity continued to grow in 2011 with the release of their most accomplished record to date entitled The Love Show.  The album appeared on the Top 50 Roots Rock Chart and continues to receive national acclaim and radio play.   Dan Hubbard and The Humadors are currently touring the Midwest in support of The Love Show.