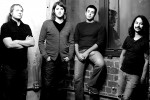 DAN HUBBARD AND THE HUMADORS
Since 2003, Illinois-based singer-songwriter Dan Hubbard has released six albums and toured extensively through the Midwest and both coasts. In the process, he's built a strong fan base, become a refined songwriter and earned critical acclaim for his efforts. With his foundation in the classic sounds of Tom Petty, Van Morrison, Neil Young and Jackson Browne, Hubbard carries songs of love, loss and soul searching (and occasionally getting drunk enough to forget it all). Like the influential front-men before him, Hubbard delivers a message that people can relate to in good times and bad.
Dan got his first taste of success when the release of his 2010 album See You Again received airplay on over 120 radio stations nationwide. His popularity continued to grow in 2011 when he and his band "The Humadors" released their most accomplished record to date entitled The Love Show. The album appeared on the Top 50 Roots Rock Chart and continues to receive national acclaim and radio play.
Hubbard's latest project, a solo effort entitled Livin' in The Heartland, is an album he describes as "an opportunity to get back to basics." "I grew up on acoustic music," Hubbard explains, "so occasionally I have the desire to strip everything away and let the songs stand on their own. It's my best work so far, and I can't wait for everyone to hear it." Livin in the Heartland is set to release on Dead Letter Records in September 2013 with a Fall Tour to follow.