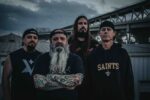 CROWBAR
The moment you hear it, you know it's CROWBAR. Praised by Pitchfork, VICE, and Metal Hammer. Twice immortalized by Beavis and Butt-Head. The group is worshipped by the heartbroken and downtrodden – those who exorcise their demons in smoke-covered riffs of mournful devastation. A genuine band's band, with a wide-ranging influence across multiple genres, Crowbar "helped draw up the sludge metal blueprints" (Kerrang!). Celebrating a recent 30th anniversary, Crowbar is led by one of the most beloved figures in heavy metal, riff overload Kirk Windstein. His menacing bellow and smooth drawl put resilient, unrepentant strength behind even the most somber odes to suffering.
Crowbar songs are unapologetic emotional outpourings, with a bare-knuckle resolve alongside its soul-searching vulnerability, reliably delivered with crushing heaviness. Zero and Below, which cements the band's dense catalog as exactly one dozen studio albums deep, is the most unforgivably doomy Crowbar record since their landmark 1998 effort, Odd Fellows Rest. Zero and Below is reverently old-school, counter-balanced by a resonant melodicism that's stunningly mature. Songs like "Chemical Gods," "Bleeding From Every Hole," and "It's Always Worth The Gain" demonstrate what Crowbar does better than any other band: powerful, evocative, and crushingly heavy music.
Gargantuan-sounding career-resurgence slabs Sever The Wicked Hand (2011), Symmetry in Black (2014), and The Serpent Only Lies (2016) sits mightily alongside Crowbar classics like Time Heals Nothing (1995), comprising a robust catalog worthy of examination, dedication, and repeat listens. Songs like "Planets Collide," "Existence Is Punishment," and "All I have (I Gave)" are anthems as demonstrative of the sludge sound as early songs by Metallica, Slayer, and Megadeth represent Thrash.
Sever The Wicked Hand introduced guitarist Matt Brunson and drummer Tommy Buckley to the Crowbar faithful. Symmetry in Black began a partnership with producer Duane Simoneaux. Rolling Stone named it as one of the 20 Best Metal Albums of 2014; Pitchfork praised it as well. Exclaim! honored The Serpent Only Lies as "another worthy album to add to Crowbar's influential and highly revered catalog." Rounded out by bassist Shane Wesley, Crowbar and Simoneaux work their magic repeatedly on Zero and Below. As Metal Hammer astutely observed, Crowbar "exists in a genre of one."