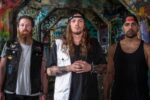 CONCRETE DREAM
Combining infectious post-hardcore anthems, heavy metal riffs and electronic beats with rock/rap vocals, New Jersey-based quartet CONCRETE DREAM have self-defined their one-of-a-kind sound as "trap metal." Their newest single "Pit Trap," featuring guest vocals from fellow rap-rocker HYRO THE HERO. Their "trap metal" sound first hit the studio in 2017, with producer, Ricky Armellino (This or the Apocalypse/ Ice Nine Kills) and that demo reached the hands of New York Hardcore legend, Lord Ezec, (Crown of Thornz, Skarhead, Danny Diablo.) When Lord Ezec first heard the fusion sound and its clear and raw power, he signed the four-piece to his new venture "E-Train Records." In the new release, "Pit Trap", Vocalist Jeremiah Mayhem further adds, "Some people are born into the struggle and some people are born in the struggle, and a product of a bad environment, and that's our character, Tony. While the pit is his escape, it's also his downfall. He's constantly causing trouble–it's his retaliation with anger for what life caused him." Veteran video director Dale "Rage" Resteghini directed the music video.
They followed up with a video for their single Buckout Road directed by Don Capria and starring Tommy Roulette from Jynx. "This song is a dark comedy-turned tragedy and shows how you truly don't know what could happen with the one you're with," says vocalist Jeremiah Mayhem. "A split-second and your whole life could change. And this also applies to relationships that crash."
In 2021, DJ Boogie was added to the line up to fill out their live sound. The band is currently writing the follow up to their debut LP.
Concrete Dream exude a distinct, raw, yet accessible power with clean execution and potent consistent anthems that will have listeners singing along to songs that also hit as hard as nails. Be sure to check out their awe inspiring live show.