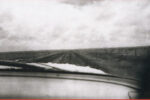 BRUCE SPRINGSTEEN "NEBRASKA"
Nebraska is the sixth studio album by American singer-songwriter Bruce Springsteen, released on September 30, 1982, by Columbia Records. Springsteen recorded the songs as demos on a 4-track recorder, intending to rerecord them with the E Street Band, but decided to release them as they were. Nebraska remains one of the most highly regarded albums in his catalog.
The songs on Nebraska deal with ordinary, down-on-their-luck blue-collar characters who face a challenge or a turning point in their lives. The songs also treat the subject of outsiders, criminals and mass murderers with little hope for the future—or no future at all—as in the title track, where the main character is sentenced to death in the electric chair. Unlike previous albums, which often exude energy, youth, optimism and joy, the vocal tones of Nebraska are solemn and thoughtful, with fleeting moments of grace and redemption woven through the lyrics. The album's reverb-laden vocals and mood combined with dark lyrical content have been described by music critic William Ruhlmann as "one of the most challenging albums ever released by a major star on a major record label". Because of the album's somber content, Springsteen chose not to tour in support of the album, making it Springsteen's first major release that was not supported by a tour, and his only such release until 2019's Western Stars.