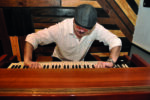 BRIAN CHARETTE TRIO
Organist, Brian Charette is a Hammond and IK Multimedia endorsed, Steeplechase and Positone recording artist, currently #3 on the Downbeat Critic's Poll. He is also the 2014 Downbeat Rising Star, and 2015 Best Organist in NYC from Hothouse Magazine. Charette plays with many well known jazz artists like NEA master George Coleman and pop icons like Chaka Khan and is known for his technical command of the organ and memorable funky tunes with swirling electronica. He will be joined by Jordan Young on the drums and Dave Miller on guitar. Young is a Detroit native and fellow Positone label mate. He is Charette's right hand man playing on most of his US tours. Dave Miller is a local hero with a soulful tone and meaningful melodic approach which will add just the right vibe to the greasy, funky set.
Charette was born in Meriden, Connecticut in 1972, and was introduced to music by his mother, Catherine. By the age of 17, he was playing with jazz luminaries such as Lou Donaldson and Houston Person. Since graduating on the Dean's List from UConn in 1994 with a BA in Music, Charette has been performing extensively in Europe and the USA with his home base being the East Village, NYC. Brian is a staple of the downtown NYC scene working with virtually everyone who plays with an organist.
Besides being a critically acclaimed composer and bandleader, Brian has performed with many notable artists such as Joni Mitchell, Chaka Khan, Paul Simon, Cyndi Lauper, and many more. Charette is also an active author and educator, writing for Keyboard Magazine, The New York City Jazz Record, DownBeat, and the Czech magazine, Muzikus. Brian teaches masterclasses all over the world and is on the faculty of the Czech Summer Jazz Workshop at Jesek Conservatory in Prague. His first book, 101 Hammond B3 Tips, released through publisher Hal Leonard, has become very popular, as well as his videos on the website, mymusicmasterclass.com.
Outside of music, Charette is passionate about chess and White Crane kung fu, in which he holds a black sash.