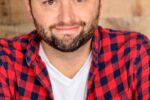 BRENDAN FITZGIBBONS
Brendan Fitzgibbons is an actor, writer, stand-up and host living in New York and Los Angeles with his dog Willoughby. He doesn't vape or have a skateboard.
You've Seen/Heard Him On:
-The voice of the new Samsung phone
-Comedy Central's Alternatino
-Full Frontal with Samantha Bee
-MTV's Guy Code vs. Girl Code
-Nobody's Watching (Tribeca Film Festival)
-Get Money for ComedyCentral.com
-Huffpost, Vox, Sirius Satellite Radio, College Humor, Above Average, AOL, Oxygen and Bravo.
He's Written For:
-Comedy Central's Alternatino
-NBC Universal/Bravo's
Blind Date
-Celebs Have Issues for
HuffPost
–ComedyCentral.com
-The Onion and Onion Sports
-McSweeneys, College Humor,
Rolling Stone, Cracked
and Conde Nast.
He was named one
of "NY's Funniest!"
in 2017!