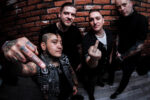 BOOZE & GLORY
Punk rock never died. It just has the occasional nap. Fortunately, however, Booze & Glory have been keeping everyone wide-awake for the last decade, flying the flag for authentic working class rock'n'roll and the power of a rabble-rousing tune.
In the last 3 years this London band have added innumerable new triumphs to their already impressive CV, notching up nearly 300 shows played around the world, including high profile 5 week North American tour with Dropkick Murphy's, 10 shows arena tour with Broilers and legendary Persistence Tour in Europe (Booze & Glory was the first punk band on this tour in the last 10 years). The band also appeared at the mighty Hell Fest in France, Punk Rock Bowling in Las Vegas and Pol'And'Rock Festival playing before Judas Priest in front of 500.000 people. 2018 also saw the band walk off with the Vive Le Rock Award for Best New Band, as voted for by the fans!
Recorded in Sweden at Soundlab Studios, the new album was produced by Millencolin guitarist Mathias Farm and promises to be the biggest, boldest and most explosive Booze & Glory album to date. With the introduction of piano and organ to the band's trademark sound, the new songs amount to a wholesale upgrade for British punk rock, with a strong message of positivity and hope oozing from every boisterous, melody-drenched pore. Now featuring founder and singer/guitarist Mark alongside lead guitarist Kahan, bassist Chema, drummer Frank, Booze & Glory have never sounded more potent.