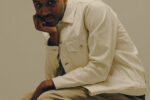 AUSAR
Ausar is a rapper and singer from Chicago's South Side, with a 35 inch vertical on the court. He fell in love with music at a young age, initially gaining inspiration from the gospel.
As a 🍋 Sprite™ Way artist — with cosigns from Lupe Fiasco, 9th Wonder, Rakim, and a premiere on Netflix's Rhythm + Flow — Ausar has performed and worked alongside Wyclef Jean, MFnMelo of Pivot Gang, NF BroLeeLove, Smino, and Fat Tony of VICE LIVE TV.
That said, Ausar's just trying to change lives with his music — and, of course, dunk on your favorite rapper.