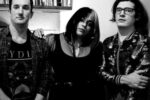 ANFANG
ANFANG are wizards of angst conjuration.
Founded in Chicago in August 2018, ANFANG is an Alt/Grunge Rock 3-piece fronted by the soaring vocals of singer/songwriter Andie Zaragoza. ANFANG's riff-heavy arsenal of sounds are driven by Christian Newman on bass/rhythm guitar, with Nick Rissler keeping things metronomically sound on drums.
Their grungy grooves scintillate with rich atmospheric texture; sugar-laced with anthemic pop melody and bursting with unresolved emotion – the human heart in conflict with itself,
As a band, each member contributes to the songwriting process, bringing their own sound and histories with them. The result is a delightful yet face-melting blend that makes one's heart and ears hurt pleasantly in equal measure.