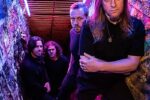 96 BITTER BEINGS
Deron Miller gives his life to the riff. Unrestrained by industry expectations and genre limitations, the boundlessly prolific guitarist and voice behind multiple beloved projects is best known as the founder, frontman, and songwriter in CKY. His authentic and effortlessly hooky heavy rock obsession returns with 96 BITTER BEINGS. Reinvigorated and ready to rumble all over again, Miller roars back with the same reverence for riffage that made underground hits out of CKY anthems like "Flesh Into Gear," "Escape from Hellview," and "Disengage the Simulator" from 1998 till 2011.
"After CKY and a short break, I decided to continue, without changing the sound," Miller explains. "Because that's what I do. It's what I love to do and what people say I do well. All of the guys who got in the band with me are great musicians. And each of them is hungry. They have priorities and ambitions about being in a rock band, no matter the grim state of pop music out there. If we can bring rock and metal back to the mainstream, in some way, that's the dream."
In 2022, 96 BITTER BEINGS unleash the long-awaited Synergy Restored.