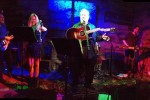 KURT MICHAELS CONTINUUM
(featuring Alain Quinn)
The Kurt Michaels Continuum featuring Alain Quinn is band whose resumes include live performances with many legendary acts including The Temptations, The Drifters The Platters, Bobby Vinton, Badfinger, Spencer Davis, Wolfman Jack, The Shirelles, The Syn (featuring Chris Squire and Alan White of Yes) and Denny Laine of The Moody Blues and Wings (Paul McCartney). Recent performances include opening a sold out show at Reggies for Carl Palmer's ELP Legacy. Singer songwriters Kurt Michaels and Alain Quinn provide an original and engaging landscape of new and original music that crosses into multiple genres and coming straight from the heart. The Kurt Michaels Continuum featuring Alain Quinn is: Kurt Michaels – guitar and vocals Alain Quinn – vocals Jeff Sandler – drums Bruce Gordon – bass 'Jim Gully – keyboards & vocals Another feature of our shows includes live mixing by Jim Nudd who did the house sound at Park West for many years, making us sound so good! The Continuum family of musicians that have lent their talents to our shows along the way include: Wynn Kanten – bass &acoustic guitar; Mike Lundin – keyboard bass; Jackie Mudd – Singer Emeritus (we love you Jackie); Dean Milano – bass; Christ Andronis – bass; Len Szymanski – drums The group of musicians who appear on my latest release "Soaring Back To Earth" are: Kurt Michaels – guitar, synth, lead and background vocals Jim Gully – keyboards Len Szymanski – percussion Christ Andronis – bass Steve Vining – co-producer and engineer, background vocals, bass, percussion & keyboards Special guests on "Soaring Back To Earth" include: Billy Sherwood – drums and bass Michael Sherwood – keyboards & special string arrangement on "Didn't Get To Say Goodbye" Tom Brislin – keyboards Special thanks goes out to: Eric Rapier who did some singing with us on the early Soaring sessions. Krista Wallhagen who did the first class artwork & layout for the cd and album cover. No man is an island, and it is because of these people, that I have been able to continue on chasing my musical dreams. Thanks again to all of you for helping to make it real!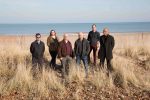 TAUTOLOGIC
Tautologic is an eclectic progressive rock band based in Chicago. The band was formed in 1997 as a vehicle for founding members Ethan Sellers' and Pat Buzby's eclectic musical compositions and off-beat lyrics. The group's richly orchestrated recordings have garnered the band praise for its inventive arrangements, performed by some of Chicago's best musicians.
Tautologic has released two CDs to international critical acclaim and radio airplay, making at least one critic's year-end best-of list. The band has performed on the stage at various clubs, radio stations, and television shows in Chicago, Milwaukee, Madison, and the Minneapolis-area.
Tautologic writes lyrics and constructs rock operas about things drawn from life like burnout roommates and their psychotic crack-whore girlfriends, tube socks, crazy homeless people, indie hipsters, quasi-terroristic rants against totalitarian utility companies, and anything else that entertains and/or irritates Sellers and Buzby in real life.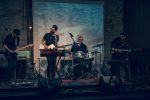 SLEEPERSOUND
a cinematic musical experience based in Milwaukee WI. Ambient rock riffs ebb and flow to smashing crescendo, accompanied by a live video score presented by Stephen Anderson.