POLKADOT CADAVER
When Baltimore based alt-metal act Dog Fashion Disco came to an end, it wasn't the end of frontman Todd Smith, guitarist Jasan Stepp and drummer John Ensminger's musical output.
During the near decade the group spent in Dog Fashion Disco, Smith and his merry band of misfits would amass a loyal underground following of fans (dubbed the "mushroom cult") through countless tours with the likes of Slayer, Mindless Self Indulgence, Nothingface and Lacuna Coil. Although Dog Fashion Disco never achieved commercial success, their musical legacy gained the respect of musical contemporaries like Serj Tankian of System of a Down (who made a guest appearance on Anarchists of Good Taste),Mushroomhead and American Head Charge, while the group's music lives on through the internet and continues to create new members of the "mushroom cult" long after the band's demise.
While Smith and company may have become sick of living the vagabond lifestyle that a touring metal band requires, the thought of giving up music entirely never even crossed their minds. Within mere months of their former outfits demise the group had created a new group, Polkadot Cadaver to unleash their schizophrenic musical madness.
"Jasan and I decided to start a studio band and Polkadot Cadaver started as shells of songs on Jasan's computer.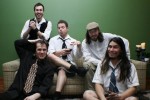 IDEAMEN
Ideamen, from Chicago's south side, are an intense musical experience, best seen live to appreciate. This piano driven act has toured throughout much of the U.S., growing their fan base & putting on a show that turns 1st time spectators into instant fans. Their first two releases, the currently out of print EP "Progress" & "May You Live In Interesting Times" are considered staples in the experimental post rock scene.