All Ticket holders get access to artist Meet & Greet on second floor.
Buffet available to purchase separately (not included in any ticket)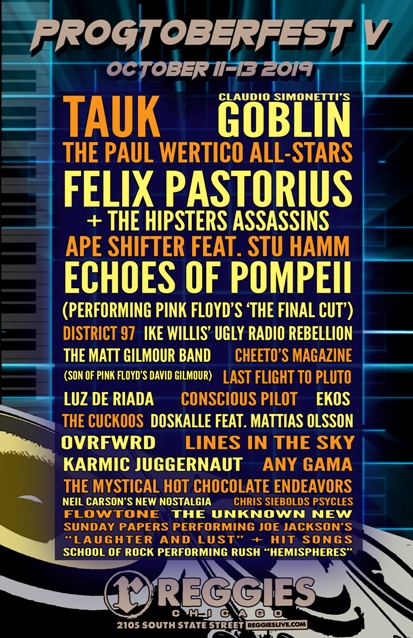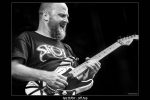 APE SHIFTER
(featuring Stu Hamm)
From rockin' 70's riffs played with punk rock ferocity to creeping metal grooves and all out bashers, APE SHIFTER give new meaning to intense simian instrumental rock from the nasty pits of the Hellabrunn Zoo.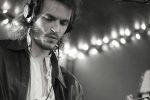 THE MATT GILMOUR BAND
The Matt Gilmour Band is an interstellar vehicle that plays psychedelic rock with touches of prog, blues, indie, folk, and funk. The band is a collaborative effort under the banner of The Matt Gilmour Band. "There is no way I could do this without the guys. They're amazing musicians and amazing friends," Matt says. In addition to Matt, the band features AJ Vincent on keys and Mike Hidalgo on drums. The Matt Gilmour Band gigs regionally and nationally, often performing with dazzling light show accompaniment.

Matt was born and raised in England where he grew up watching his father—Pink Floyd guitarist David Gilmour—from the side of the stage as he captivated arena crowds. Eventually, Matt began to solidify his musical chops and forge his own path discovering his identity through traversing a myriad of musical influences. As a signature sound coalesced, and Matt's talents shined through, he began to write compelling compositions. One track he posted online caught the ear of legendary producer/engineer and Steppenwolf guitarist Danny Johnson who invited Matt to Austin to record a solo album. That album, The Grey, snapshots Matt in an intimate bluesy folk setting. 
The Matt Gilmour Band represents a culmination of these profound times of personal and artistic growth. Standouts in the band's current body of work are "Dear" and "Push." The track "Dear" patiently unfolds from an airy piano-driven ballad to a majestic rocker with soaring melodies, cathartic hooks, and a fleet-fingered bluesy guitar solo. The grandly ethereal "Push" boasts an imaginative arrangement that feels like a spiritual journey offering a rousing uplifting message. "That song is about those times when we think can't go any further, and we want to stop or give up. During those times of doubt, I think about my past, and how far I've come, and I feel a second wind. I just push through" Matt says.

Up next, The Matt Gilmour Band are concentrating on its innovative series of streaming performances, the band's recorded output, and performing live regionally and nationally. At the moment, Matt says, the band is enjoying a wellspring of creativity. "It feels really like everything is taking off now. There is this wonderful unspoken energy and excitement that's unqualifiable. I am looking so forward to the future," he says.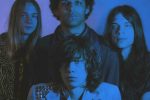 THE CUCKOOS
This Austin, Texas based band isn't wasting their youth, nor are they jettisoning the hallmarks of the greats who came before them. On the contrary, these four young men draw liberally from the deep well of vintage pop, heady psychedelic rock, sizzling hot funk, and even a bit of old-fashioned blues to create music that is at once classic yet forward thinking. Classic Rock Magazine rightly christened their psychedelic garage rock "spectacular," declaring the band "hip young dudes who mine the late sixties acid rock scene for inspiration, but sound so authentic you'll think you're having a flashback."
From Magical Mystery Tour to The Doors, from Velvet Underground to Jimi Hendrix, The Cuckoos roots run deep. Within the band's swirling, trippy songs, there's the magical alchemy of Pink Floyd, the stoic enigmatic melancholy of Joy Division, and the epic scope of Led Zeppelin. It's all super-charged with the gritty energy of Nirvana at their most energetic. At times, one can almost feel the heat of Jimi Hendrix's burning guitar, as the sonic vibes transport the audience to uncharted funky and jazzy dimensions. It's all viewed through The Cuckoos young and constantly inspired lens, giving it a fresh feel.
Imagine The Doors, Joy Division, and Rick James writing songs with Tame Impala to begin to get the picture, but be aware, The Cuckoos are carving their own path, hungry to become more than the sum total of the music that has inspired them and to diligently add new elements that will inspire others. Art, after all, should be communal.
DOSKALLE
Döskalle from Stockholm, Sweden
Mattias Olsson
Tobias Alpadie
Hampus Nordgren-Hemlin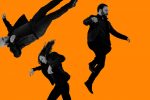 LINES IN THE SKY
Whereas many artists are hesitant to discuss overt stimuli and similarities, Lines In The Sky are wholly transparent about acknowledging their forbearers. Explicitly, they cite Coheed and Cambria, Peter Gabriel, and Sting as being "hugely influential on all of our work . . . especially regarding vocals and arrangements." Beyond that, McAnelly channels his "deep love for jazz" throughout the disc, Bowman tips his hat to Pat Metheny and Chick Corea, and Jesse recognizes the "super tight" marvels of The Contortionist (as well as The Weeknd, whose "unparalleled pop creativity" and "brutal honesty" have been impacting their music "for some time"). Clearly, Lines In The Sky find comfort and inevitability in being compared to others; as they put it, "It's kind of flattering, really. After all, you're being self-defeating if you say that you're completely different from anyone else. You're always building on the ideas of the people before you. It's not a bad thing, but you should strive to push the envelope and put your own spin on things." With Beacon, Lines In The Sky do precisely that.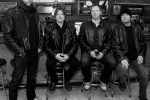 OVRFWRD
OVRFWRD is a four piece instrumental band born out of equal parts fate,  happenstance and the desire for a high quality, complex sound. Drummer  Rikki Davenport and guitarist Mark Ilaug  founded the group along with bassist Kyle Lund and keyboardist Chris  Malmgren in 2012. They set out to define "band" in a new way, weaving a  tapestry of rock, progressive, and jazz, challenging musical boundaries  and the standard genres. The music of OVRFWRD has been described as "A  cinematic journey, requiring attentive ears and patient listening."  Their debut album "Beyond the Visible Light" was released in January of  2014, and their second album "Fantasy Absent Reason" (Oct 2015)
2018 brought a live in studio performance titled "Occupations of Uninhabited Space" released on CD and BluRay as well as their latest album "Blurring the Lines …A Democracy Manifest" which landed #1 in ProgArchives top Heavy Prog albums of 2018.
Weekend Passes
3 Day GA/$120

3 Day Pass Red Chair Seating Sat and Sun Only/$240

3 Day Pass Reserved Seat Sat and Sun Only/$240