Unfortunately this tour featuring Cactus is postponed. We will have a free show featuring Psychedelic Blue, doors open at 8pm.
All previously purchased tickets will be refunded at original point of purchase. Online tickets will be refunded automatically. Box Office refunds must be processed in person at the box office. We regret any inconvenience and will update with a new concert date for Cactus when determined.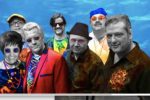 PSYCHEDELIC BLUE
Blending psychedelic rock with blues rock, from the Swinging Sixties to the present day, Psychedelic Blue comprises singer Melodye Buskin whose forays into rock, reggae, country, soul, and R&B have also included drumming as well as recording backing vocals for George Michael and Sinéad O'Connor; English award-winning rock journalist and New York Times bestselling author Richard Buskin who sang lead with Melodye in London blues-rock group The Coyotes; acclaimed drummer Joe Valentino who's spent the past four decades demonstrating his musical versatility both locally and overseas; Serbian guitarist Sasha Brusin who's performed onstage and in the studio with acts ranging from Bruce Dickinson and Ginger Baker to Ian Paice and The Buddy Rich Big Band; Brazilian blues/rock guitarist Joseph Silva, a regular on the Chicago scene since 2017; bassist Mitch Straeffer whose work has immersed him in blues, rock, folk, Latin, country, and jazz; and David Bugher, an equally eclectic keyboardist who's also an accomplished percussionist.